The competitive advantage of a company that is client-oriented is the quality of service. Therefore, one of the most important processes within a company is the creation of a system of service standards and their further development. Uniform standards will guarantee customers a high level of service, as they imply common rules of conduct for all employees. Well-designed corporate rules form a positive brand image. Hence, it contributes to winning customer loyalty.
However, there are different customer service levels that you need to keep track of, and you need to know what the standards are for each one and how to measure them. Today we will go over the definition of customer service levels and the metrics you need to follow to know how well you are doing. 
What are Customer Service Levels? 
Service levels of customer refer to the quality of service a company provides to its clients or customers. There can be many different levels of customer service ranging from unsatisfactory, and the ways the levels are defined will vary from one industry to another. However, the core components of what constitutes great customer service remain the same across industries. Being mindful of the level of service you or your company provides can help your business make strategic decisions to provide better experiences for your customers.
Parameters of Customer Service Levels
It is possible to set both qualitative and quantitative parameters. But often, the challenge for a company is to combine all of the indicators and data into parameters or an integral index. It is convenient to associate it with the financial, marketing, and HR indicators of the company, to evaluate the effectiveness of investments in the service. Some companies consider the Net Promoter Score as an integral indicator, as the final customer feedback on the service. Others disagree because NPS does not always take into account the standards and requirements of the business. Each company is looking for its own answer and formula.
The role of the integral indicator is great. It combines various assessment tools and allows you to track the service dynamics. In this case, there are no universal solutions. Everyone should look for their own solution. However, when setting up the parameters for customer service levels, you also need to know which standards need to be maintained. Let's take a look at these next.
Five Customer Service Standards That Must Be Maintained
When building the work of the service department, companies form the rules for interacting with customers – politely answer calls, start response letters with a greeting, etc. These rules are called customer service standards and inevitably affect the quality of interactions with them. For the client, the standard of service is a guarantee that he will receive a high level of service (declared by the company), regardless of which employee he will deal with.
Here are five customer standards that you need to maintain: 
1. Speed – As people expect more from customer service departments, service speed is becoming a key metric in improving customer experience.
2. Accuracy – This will help increase customer satisfaction. While many will expect and appreciate speedy service, there's almost nothing that'll beat accurate service. It doesn't matter how fast you answer phones or emails if you're not giving customers the answers they need. 
3. Transparency – Transparency ensures customer expectations are met accordingly, thus boosting the firm's customer retention. Building customer loyalty is by the simple acts that businesses and employees portray.
4. Accessibility – Let's face it, acquiring new customers is not easy. Keeping them is no small task as well. You can help improve your retention rates by making customer support accessible via many different communication channels. Increasing retention rates by

5% can increase profits by up to 95%

, but customer retention is reduced by a lack of accessibility. And, accessibility doesn't only improve customer service. It might actually reduce customer service costs.

5. Friendliness – This involves displaying empathy and going above and beyond what the customer is expecting. This can greatly improve the way your company is viewed by the customers. 
Levels of Customer Service 
Now that we know all about the various standards and parameters, we can move on to the levels of customer service: 
Unsatisfactory – This is the type of service that's so poor that it doesn't meet even the bare minimum both customers and the company expect from the agent. 
Basic – At this level, the agent provided a disappointing level of service, but the customer's frustration has not boiled into anger, and they don't want to complain quite yet. 
Average – The agent has provided the expected level of service the customer expects, but nothing special. 
Desired – This is the level of service that goes beyond what the customer expected when they contacted support. The agent did everything the way the customer expected. 
Unbelievable – The level of service was astonishingly fantastic. This is the level of service your customers can't forget, the legendary treatment they will tell all their friends about.
How Do You Measure Customer Service Levels?
You can measure all of the customer service levels by keeping track of various metrics that correspond to each level. For example, let's say you want to know whether or not you are providing a memorable experience, something that corresponds to the unbelievable service level. Here you would need to track the net promoter score (NPS). The NPS is a measure of customer loyalty and how likely are customers to recommend you to their friends and family. The customers are asked to give a rating from 0 (Not at all likely) to 10 (extremely likely). If you are getting a lot of tens, then you are providing an unbelievable level of support. Learn about all of the various customer service metrics you need to track so you can set measurable goals for your team and you are aware of how well you are doing. 
Customer Service Levels and Costs
While pretty much all companies strive to provide the desired or unbelievable levels of support, achieving such goals requires investing in your customer support processes, which could get pretty pricey. However, you can keep costs under control and lower your overhead expenses by setting up a dedicated offshore team. This way, the service provider will be responsible for all of the costs associated with sourcing and recruiting candidates, renting office space, procuring equipment, training, and many other costs. All of this is in addition to the lower labor costs of hiring agents based overseas. This way, you will be able to get the same quantities of qualified candidates without breaking the bank. 
How Does Inventory Management Help Improve Customer Service Levels 
Inventory management has a positive impact on customer satisfaction and how easily we can check the performance. It also helps retailers to put their inventories in proper order, which tells them about the demand and supply of their inventories. A proper inventory management system reduces the risk of short inventories, which reduces the cost of lost customers. Good inventory control means that you are able to fulfill orders faster. You have an up-to-date inventory count at all times. You need to offer your customers accurate information regardless of whether or not they are ready to make a purchase. By being able to give clients accurate inventory information, you are showing customers your dependability which increases your reputation level. 
Customer Service Level Agreement Template
In today's business environment, where managed services are constantly being outsourced, it's always a good idea to create a document that outlines the responsibilities of both parties and the expectations you have of yourself. Here is an example of how the agreement should be structured: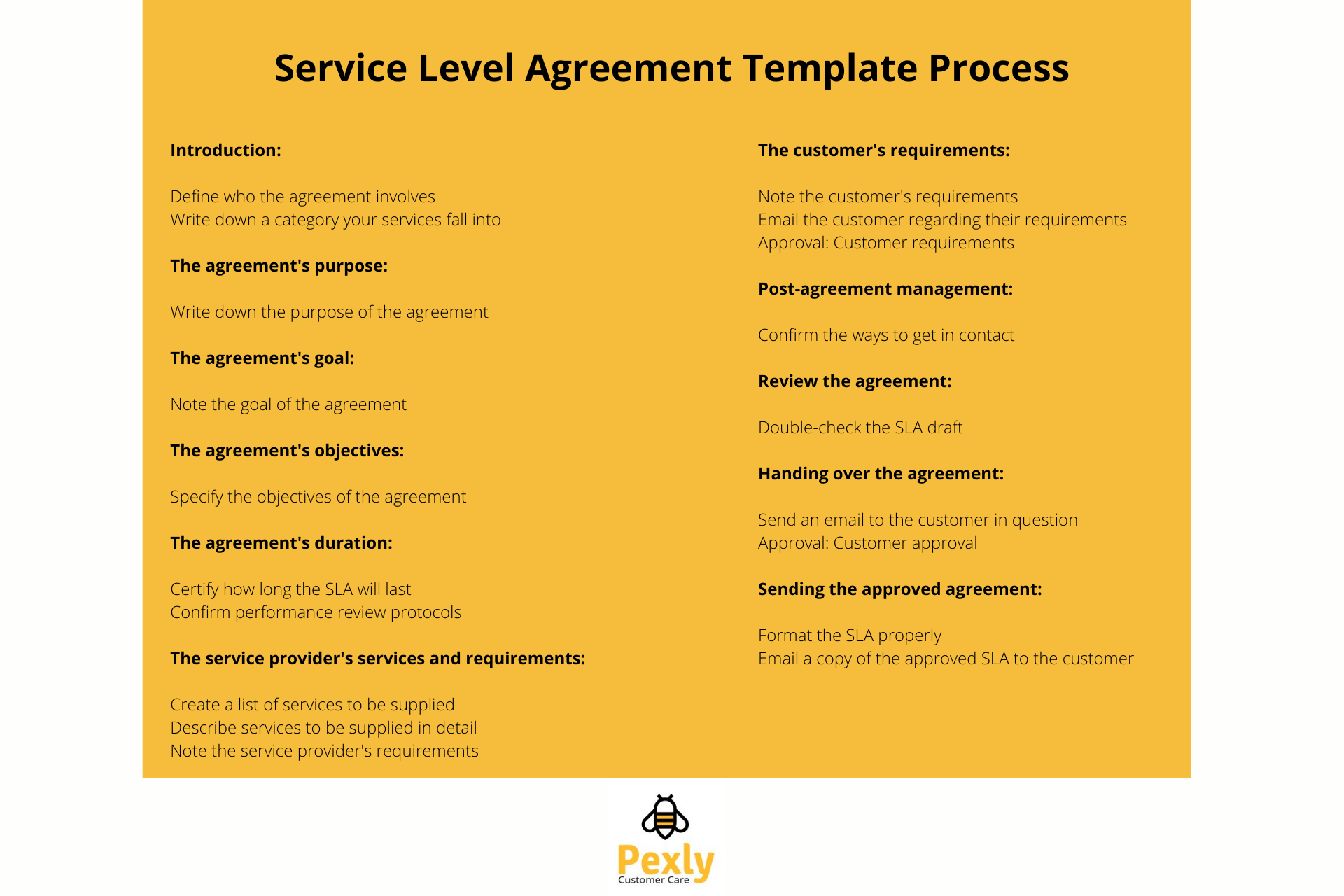 Trust Pexly With All of Your Customer Service Needs
Regardless of the customer service levels you are looking to implement; we can assemble a team that meets your needs. We have more than seven years of experience actualizing custom service projects of all sizes and difficulties and can help guide you through all of the stages of the implementation process.
Contact us today to learn more about how we can help you.