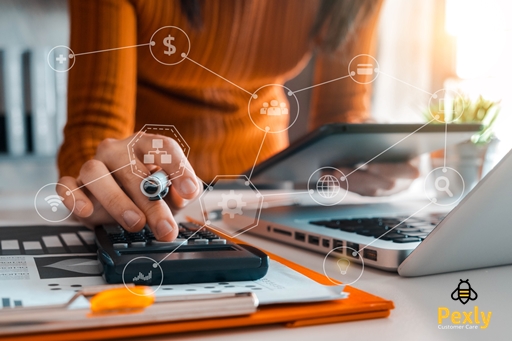 One of the biggest reasons why so many companies choose to outsource their customer support is because of cost savings. These savings go much beyond simply the cost of labor but also allow businesses to eliminate overhead costs associated with office rental, equipment procurement, and recruiting costs. Having said this, how much does it really cost to outsource your customer support? As we will see later on, the cost will depend on your specific needs and other factors. Let's start by taking a look at outsourced customer support as opposed to in-house and why a lot of companies choose to outsource.
Outsourced Customer Support vs. In-House
Outsourced customer support is when a company hires a third-party provider to source and recruit the needed number of agents and provide their customers with a high level of support. For businesses, outsourcing customer service is not about cutting corners – it's about offering the best possible level of service to fulfill the customer service needs of your customers (at scale). After all, it's the positive experiences that drive loyalty, gain fans, and improve overall brand reputation.
Conversely, in-house customer support involves a company doing all of the work involved in setting up its customer support team, training agents, ensuring quality, and many other processes. Since in-house support can get very costly and time-consuming, a lot of companies choose to outsource their customer support to an offshore customer support provider.
What Factors Influence the Cost of Outsourced Customer Service?
When trying to calculate the cost of outsourced customer support, there are several factors you need to take into account:
Location – Some outsourcing destinations will have lower labor costs than others. This is why the top customer support outsourcing providers have remote teams in many locations and can recruit candidates from all over the world.
Languages – A lot of times, companies will need to provide support in languages other than English. The best way to do this is to set up an offshore team at a location where you can source and recruit native speakers of the needed language.
Hard and soft skills – Customer support agents need to be proficient in a variety of tools, such as CRMs, omnichannel, and ticketing systems, as well as other technologies. They will also need the soft skills to empathize with customers and be a productive member of the team.
Support channels – Nowadays, customers can contact you over a variety of channels such as social media, instant messaging, chat, and many other methods. You need to have agents monitoring all of the support channels you offer to give your customers the best possible experiences.
What are the Pricing Models?
When setting up your support team, there is a variety of pricing models available:
Hourly-based – Basically, you will need to pay your agent(s) the hours they worked. This can be regular business hours or 24/7 support.
Performance-based – You have the option of paying agents based on how well they perform their responsibilities. This can be things like the number of tickets handled, orders they fulfilled, and many other things.
Full-time agents – Hiring agents as full-time employees is a great choice whether you are setting up an entire dedicated team or just a support agent. You will pay each agent's salary just like your in-house employees.
Fixed fee – With this model, you and the service provider agree on a set of specific services that will be delivered to you for a fixed price.
Shared services – There are parts of the day when there are not a lot of calls or inquiries from customers. During such hours, it may be a good idea to hire a shared agent who will work on your project but also others as well simultaneously.
What is the Average Cost of Outsource Customer Service?
The cost of hiring customer service agents will depend on the geographic region they are located. The table below will provide you with an understanding of the price ranges:
While it may be tempting to simply go with the cheapest option, you always need to consider the value you are getting for your money. Remember, hiring the wrong company to set up your team will end up costing you more in the long run.
Trust Pexly With All of Your Customer Support Needs
Pexly has extensive experience setting up offshore teams of various sizes and complexities. We are open to discussing various price structures that suit your business needs and requirements. We usually charge on a monthly basis per FTE, and we can also build you a team to handle 24/7 support. For companies with low inquiry volumes, we can offer a shared service model. Since every company's needs and requirements are different, we highly recommend setting up a time to speak with one of our dedicated representatives. Contact us today to learn more about how we can help you.